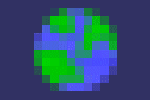 I was mightily confused yesterday when Mark mentioned peeps and Andy started talking about lumps of sugar. People - lumps of sugar. I don't get it. Luckily I was informed that peeps are, infact, little edible sugar things from America. Hurrah.
Back in the real world, I've been searching for cool computer peripherals again and have found this groovy flexible keyboard.
Thinkgeek, home of all things good, has a new t-shirt. I neeed it!
Sorry for the total lack of anything in the shape of content in the last fews days. Been doing lots of cool stuff which will soon become public. Remember, 'fly me friendly'.
[edit] Total lack of a pictures has forced me to bung one in at the lats minute. All will be revealed in due course. [/edit]