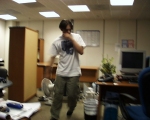 So i've been back from my holiday for like, ages now. Sorry about not updating and all that but it's been a busy past few weeks.
Bex has gone to uni. This is a bad thing. I have nothing to do in my spare time so i'm considering just moving into the office. My chair is comfy after all. And since we moved the office round (see pictures) i've got enough space. I think the addition of more space in my work area makes me less stressed. The move about is a good thing in a few other ways too. I can talk to Paul T and Julie (without standing up).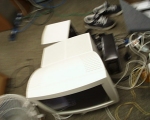 The downside of the move is that my webcam is now perched on my monitor. This is bad. You can rarely see me at the moment (you may consider this a good thing). Still, as if in retaliation, we now have an office cam which is invariably pointed towards my desk.
I actually paid for a piece of shareware. I brought Mouse Odometer by Introspect (some kid named Orion Matthews). It's such a brilliant idea that i'm ashamed i didn't think of it before. It sits quietly in your system tray and measures how far your mouse has travelled. Everytime you go a mile it lets you enter your name on the website in the charts. It also tells you how far you've gone in term of landmarks and journeys. In the last week i've ascended the leaning tower of Pisa 280 times. For only $20 i have got maximum enjoyment from this piece of software. I recommend it to anyone who spends too much time on their computer.
How good is Brad Pitt's blog? It's still in my daily list after a month (which is a very long stay). It competes with katie and jason for my favourite blog of all time. I think katie will remain number one for some time though.
Terrania version 2 (imaginativly named t2 for the moment) is in development. But you knew that already right? Well now it's really in development as in i'm spending time doing it and it's almost done. New features, a new design and a new home. But that's a secret for another day. Suficed to say that it will be released before i die. Assuming i make it to uni tomorrow morning