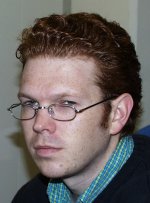 If you're epileptic, don't follow this link. Along the same lines of sillyness, take a look at absurd and wonder, like me, how long that took. How would they know if it crashed?
Todays first picture (see top left) is of evil 5emedia designer matt broke the water machine. He is obviously evil. He will be appearing in this months Internet Magazine, so nobody buy it in protest. Stand up to water mahine vandalisim.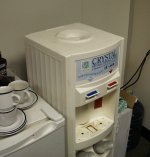 This glorious device gives us cold water on hot days, but was calusly destroyed by mat for some reason. Some bod came to fix it this morning, but it promptly broke again as soon as he left. I was reduced to buying bottled water for 70p a bottle. Rediculous I think you'll agree.
The best quote I've heard since last posting hase been on ark by Stacia, the Avocado Avenger:
Goldfish don't fit through the air nozzle of most erotic dolls.
I won't bother explaining the context of that thread :)
There's no particular reason for having three pictures today, but this section has been looking a little text intensive recently. That should clear up as soon as the conversation get's bumped off this page.
See you all later.