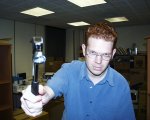 Everyone needs to go and vote on WAP in my new poll.
I just want this graphics card. For more fun (and telesales workers. haha), Check out the all new 'smoker cam' on paul's site.
If you have avantgo for your palm then you can get the i am cal channel. For those of you without avantgo, you can get the lite version of the news here.
Check out my store where you can buy cool i am cal coffee consumption apperatus. The 'mat is evil' mouse mat will be available soon :::). Talking of mat, here's a groovy animated gif of his exploits with the water cooler.
This zack guy is pretty cool. I like his minimalist design. Do you think that's through purpose or laziness? The former i would hope.
Enough rubbish for one day. I'm still waiting (hoping) for a response picture from sam at exploding dog. It would be so cool if he did a picture for me...