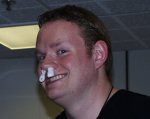 I've added a quote from Elly Collins to the front page (you might have to refresh a few times to get it). She was crying when she picked up her exam results. I didn't talk to her but I guess she didn't get what she wanted. It's a really good quote.
It was a happy day for most. Bex got twice as many points as she needed to go to preston, Jen and Deb both got 4 A's so Jen's off to play with people's brains (or something) while Deb waits for next year to be a doctor. Jen and Katie both just missed their offers but got in anyway (yay!). Katie just missed hers but got in. Dave screwed up pretty bad, but he still gets to go to UCE with me and Katie (Wooooh).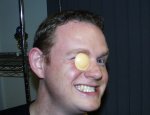 I stole Elly's quote (shamelessly) from henry's site which is now open for it's 3rd tenure. Quite a lot of my friends have web sites, though most of them are crap. Henry's is quite good though. Although they look crap, Luke's and Matt's sites are quite fun - Check out their web cam war. And if you're reading this chris g, where are those web cam pics you promised me?
My soon-to-be holiday is really dawning on me now. Two weeks with NO INTERNET ACCESS. Arrrrrgh. How am I going to cope? The emails from terrania alone will be enormous.
Things to do today: Try finding out your cyborg name, visit a graphically slick site, visit patti's blog, laugh at british comedy and post something on spampad. Message ends.
Today's pics are of infamous 5e lurker Paul Tweedy, and myself. Wooooh.