Has the Internet sunk to new depths? Probably not, but this is funny nethertheless.
There is a messageboard for the most excellent diesel sweeties and the even more excellent exploding dog. Go post there! For your viewing pleasure i have collected together all my favourite exploding dog drawings: 1 2 3 4 5 6 7 8 9 10 11 12 13. Another part of the dumbrella empire is drew, who writes an excellent and entertaining jouranl. Go read it.
My friend phil has got his own website. Fancy that.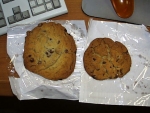 I bought these two cookies from the shop. They are supposed to be the same size. One is blatently more than twice the size of the other. I feel somehow cheated by the small one. Damn damn damn.
I have finally sent my picture to Friends of Jezebel's Mirror. Hurrah.
Oh, and check out my desk.