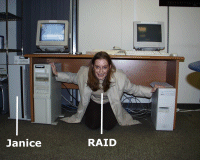 The best food in the world is haagen dazs cookie dough chip ice cream. No arguments - this cannot be beaten.
Episode 8 of pixelflo is now out - i urge you to check out web trumps. Massive thanks to the people who gave us more publicity than we deserve: zeldman, three oh, holodeck and kiiroi. You guys rock.
For more blog related card games, check out this blog deck for Dvorak. Don't know what that is? Read here.
The unfortunate tale has been updated. Check it out and see if you can write the next installment.
If you're wondering what the above image is, then you're not alone. 5e project manager Janice was wearing all biege (a la PC), so we had a quick game of "spot the project manager".
Update on Settlers 4. I want this game.
Finally, after being provoked on the UK bloggers mailing list, if created myself as a StorTrooper. Meg then made me dance.