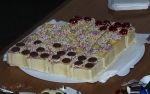 Quote of the week: If at first you don't succeed, try again. Then quit. No use being a damn fool about it.
There is someone in the world (worringly, perhaps, in the same country as me) who scans biscuits for his web site. Inspired? Yes. Scary? Definately.
I am missing Rebecca alot this week. She's up at uni in Preston and isn't back until next weekend. It isn't long i guess, but with christmas just gone it's odd for her not to be around. I know how Peter feels.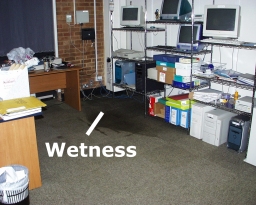 Our office leaked. I came in saturday morning to find a pool of water directly under the main web server. Luckily it's suspended on the server rack so didn't get wet. The only electical thing we keep on the floor down there is the router power supply unit (If that goes, the network is crippled). Fun fun fun. Another 2 feet to the right and it would have killed three web servers and the main RAID tower. Thank god for small wonders.
To add to the depression of Rebecca being away, Katie Deakin (see previous) has dropped out of university. This is a big shame. I met Katie on the open day a couple of years ago and we've been going to the same classes for a year and a half. I'm going to miss her a lot and university will certainly be a different place without her. Phil, Wayne and I shall have to endevour to talk to Kirsty more, since she'll be on her own now. These are sad times.
On a good news theme, the unfortunate tale has been updated. Go read. Then write.
Linkage: Go and read loobylu. Beautiful illustrations.